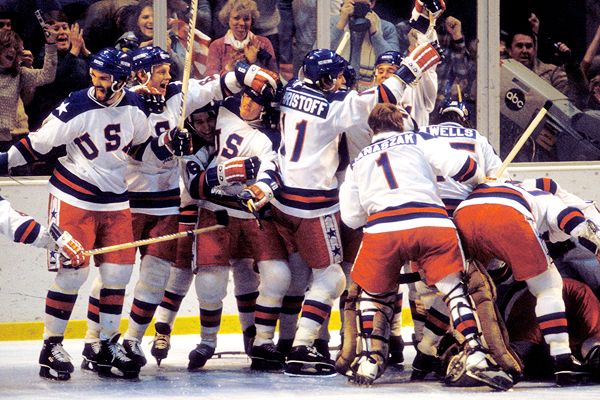 For those of you who were alive to witness (and care about) the "Miracle on Ice", did you expect a bunch of American college athletes to upset the Russian professionals? Everyone had assumed the USSR would take the Gold medal long before any Olympians had arrived in Lake Placid. To reverse the feeling, did Philadelphia Eagles fans expect to lose to the underdog Buccaneers in 2002? Of course not, especially since that game was to be the last played at old Veteran's Stadium. For both of these settings, the cliche of, 'that's why they play the game' echoes through our heads. Both outcomes were surprising; unexpected.
When was the last time that you heard a story that truly caught you off guard? It could be simple. Maybe your mother told you about how your dog obeyed her command after years of running through an open door? I know that would surprise me. Perhaps a musician you regard as one of your favorites decided to step away from their craft for a while. How would you feel? If you had truly anticipated such events then the end results would register as deeply. Stories have more punch when the next step isn't so obvious.
In business (specifically social business), companies are starting to understand how vital it is to keep consumers on their toes. I don't mean this in a negative light, it's just that, with the advent of mobile technology, many connected customers aren't as easy to impress. It is going to take a real wild card in order to get them to pay attention to your offering. Suddenly, it's not even enough to be responsive on twitter, Facebook, and the rest of the social gang. People want to be awed in a new way.
Throw the Curve
What I'm hinting at here is the need to share the tales of the terrific within your business. Whenever there is an opportunity to 'wow' someone, take the shot. That wow will be a new ripple in the social water for you and your organization. Depending on how well you impress that patron, they'll tell their inner-circle about what you've done for them via social networks, instant gaining traction for how you want to be perceived. Going above and beyond for your customers is always the best way to promote yourself. It's also a tremendous way of locking in champions, too.
"How about a test drive?"
A few months ago, a local Acura dealership randomly followed me on twitter. Considering random people follow you daily, I didn't find it all too out of the ordinary, although I don't tweet much about cars. I did thank the account for the follow and added a joke at the end. Their response was golden.
Outrageous, yes? Even though I'm nowhere close to being in the market for a new car (my 2002 Jeep Grand Cherokee is still kickin'!), I know that had I been in that position, I'd be on my way to Elite Acura. Talk about a shocking response.
Being responsive and awe-inspiring in this new landscape of digital communication is a lot like smiling at a stranger- you may just brighten their day when they needed it most. It ends up being a great story for the organization, a buyer, or someone like me to tell. Whenever you start thinking of a great tactic to help spread the word about your business, it's best left up to the interactions between you and your consumers: Give them your best and they'll take care of the rest.